Isobar® Heat Pipes resolve the difficulties in achieving thermal uniformity within a core and from core to core in complicated multicavity molding. Installing Isobar® Heat Pipes in tree-bars to parallel cartridge heaters assures that the tree-bar itself is isothermal. The tree-bar can now provide a common temperature to the base of each core pin mounted onto it. These cores, in turn, achieve an isothermal condition along their molding face when Isobar® Heat Pipes are installed in them. In comparing temperature variations along the length of a core mounted in a tree-bar orientation with and without Isobar® Heat Pipes installed, it was observed that with Isobar® Heat Pipes installed in both the tree-bar and the attached cores, each core molding surface may be held at an optimum uniform molding temperature without complex multizone temperature controls and the complex wiring associated with large numbers of thermocouples and heaters. The Isobar® Heat Pipe system reduces maintenance costs by reducing the overall complexity of the mold heating system.
Isobar heat transfer systems permit the molder to maintain optimum processing temperatures with a high degree of mold face thermal uniformity and with an increase in energy throughout. This results in faster cycle times with consistent, optimal cures.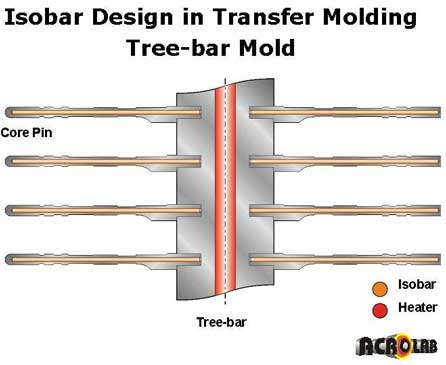 Isobar is a registered trade mark of Acrolab Ltd.